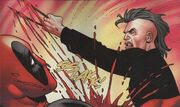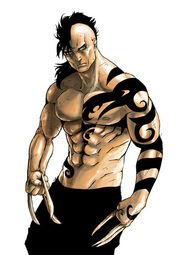 Daken is the son of 
Wolverine
 and Itsu and has the same abilities as his father, except one of his claws comes from under his wrist.
APPEARANCES WITH DEADPOOL:  Once Deadpool was about to release Wolverine from a trap, but Daken ripped off Wade's hand. Wade was angered but he was stopped when Wolverine threatened him; treatened him good and proper.
REAL FULL NAME
Edit
Akihiro is his real name. He is known as Daken or Dark Wolverine because his father is Wolverine and he is a semi-evil. He is quasi-evil. He's the Diet Coke of evil. Just one calorie, just isn't enough.
APPEARENCES
Edit
He is an asian male with a long tatto on half of his body. which is a mystery because his healing factor would stop all tattoos. It may just be paint or just some sort of exception. He is also shown with a long mullet. Also his claws are pure bone not adamantium.
TEAM AFFILIATIONS
Edit
= DARK AVENGERS
= DARK X-MEN
He has struggled to chose between the 2 options.