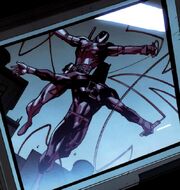 Daredevil (Matthew "Matt" Murdock") and Deadpool are longtime allies. Daredevil sometimes embraces Deadpool's warped sense of humor when around him, an example being when Deadpool asks Daredevil to "give me a hand" and Daredevil hands Deadpool the hand that was cut off of Deadpool earlier. Much like Bullseye it is clear Deadpool and Daredevil's history with one another pre-dates their actual first meeting in the comics.
They teamed-up in the following comics:
---
Daredevil Deadpool '97 Annual #1 by Joe Kelly (writer), Bernard Chang (penciller) & Jon Holdredge (inker).